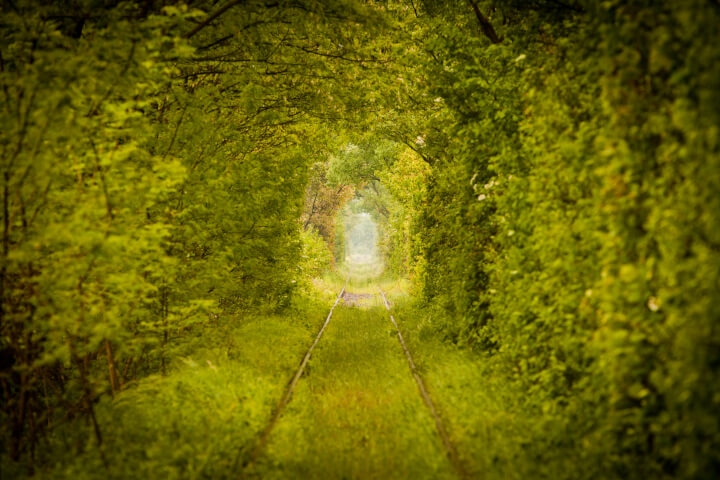 You've probably never heard of the Tunnel of Love but it is a truly gorgeous location. In the southwest of Romania, along the rail tracks that connect Caransebesh with Boutzari there is a beautiful spot that evokes such romantic and peaceful feelings. Enveloped by thick shrubs and bushes, the stretch of abandoned railway has been dubbed the Tunnel of Love.
Now, there is a similar version in Ukraine but Romania is blessed to have its own version as well.
A Little History
This railway was initially built in the very early days of the 20th-century. A simple and non-electric line it was constructed as a rack railway and inaugurated on November 11, 1908. Originally used with steam engines, the line eventually became less critical. In 1978, the section between Bouţari and Sarmizegetuza was closed to passenger trains followed by the section that connected Sarmisegetuza and Hatzeg in 1995.
Once the railway was abandoned, nature began to reclaim her space and the result is this magical and charming tunnel.
Getting There
Reaching the Love Tunnel does require a bit of effort. Head to the western side of Romania to the city of Caransebes which is about an area southeast of Timisoara. Follow DN68 east towards the village of Obreja. You will soon come upon a crossroads at the outskirt of the village which abuts some abandoned tracks. You should see a dirt path on your right that cuts into the forest. Once you locate the rusty rails simply follow them until you find the Tunnel of Love.
Summary
So, if you're looking for a tranquil and romantic spot that is literally off the beaten path, make some time for the Tunnel of Love. Whether you're looking for a photo op to celebrate an engagement or just to capture the beauty of nature, you wont' be disappointed.